Cloud-Based ID Card Printing with HID FARGO® Connect: Centralized, Integrated ID Card Issuance
Key Features:
No dedicated PC workstations are required for printing with Fargo® Connect
Design cards, capture data & print anywhere from any device with the FARGO Connect Console
Send high-volume print jobs to K&A for production or print badges in-house with your ID badge printers
Remotely track printer activity, maintenance, & diagnostics
Automatic updates to software and firmware
Distribute print jobs across multiple printers or locations
End-to-end encryption of all sensitive data
Annual and monthly billing options available
Fargo® Connect makes your ID card office more efficient and effective by combining hardware, software, and services through the most secure cloud technologies available.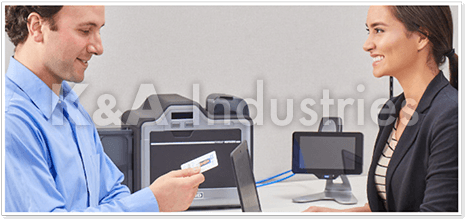 Using the Cloud-Based ID Card Printing from HID FARGO Connect gives administrators full system visibility and control while meeting or exceeding the strictest regulatory security requirements.
Cut multiple layers of program costs, gain efficiency in the issuance process, and easily scale the card office using an annual or monthly-billed service model.
HID® FARGO® Connect simplifies the management and delivery of credentials by removing the most resource-consuming tasks.
This evolution in technology seamlessly works with popular OneCard and physical access control software, databases and card technologies.